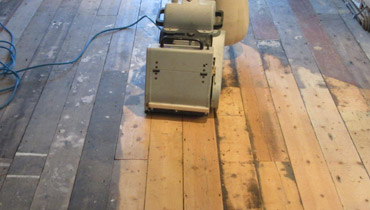 It is a sad fact we at Croydon Floor Sanders consider as a common thing, that beautiful but worn solid wood floors are hidden under dusty carpets and outdated linoleum. By keeping neglecting some possible and existing issues, solid wood floor owners get to the point where dealing with this is way too much money and time and no one has the time to deal with that, then carpets come like an easy solution. We are glad the era of the carpets trend is already over and that so many people in Croydon opt for restoring the initial beauty and glory of their old hardwood floors. Even if the situations looks like a lot of work to you, be sure to ask for help our experts, they maybe could surprise you, surpassing your expectations.
Why Choose Us for a Wood Floor Sanding Service in Croydon?
In fact, as an experienced and knowledgeable professionals we are, we don't believe in the existence of a wooden floor, which can't be totally transformed and impressive once again. On another hand, wood is what adds value, style and class to every property in Croydon, so if you already consider a restoration project, we are here to help you achieve the best results!
Often older solid wood timbers are a subject of major issues and you are going to need a serious working force for the repairs. Try to look for skilled and experienced professionals, since this is definitely not a DIY job and it may require additional skills and someone to know how to deal in that scenario. However, most of the beautiful wooden floors, hidden under a carpet, often need a light cosmetic treatment and what's better than a sanding service?!
Stress- and Dust-Free Wood Floor Sanding Service with Us in Croydon
What the sanding service can do to the floor is a significant visual change and adding longevity and durability to the whole construction. The method, of course, can't deal with the major defects, however, it can get rid of the most imperfections. Sanding removes worn and dirty finishes, scratches and finer dents, small gaps, stains and more, to leave the surface extra sleek and even, ready to be re-finished and stained, if you decide so.
Sanding is also great for newly installed ones. Many clients in Croydon opt for purchasing an unfinished timber because of the better price and the freedom they have to pick a colour and effect of their choice. When installed, unfinished floors can be sanded, as recommended, so the timber can adjust to the new environment and also in order little imperfections to be removed, otherwise, the colour pigments when staining will only highlight these defects.
Sanding is a great service, which can bring only benefits to your floor. However, the best results can be achieved by the professionals and that is what we offer to you in Croydon – flawless performance, timely and affordable service!
Explore Even More Services Delivered by Us in Croydon
Make sure your favourite wooden floor is in tip-top shape. A wooden floor is so valuable and beneficial to every home not just because of the beauty and elegance it brings but also because of its amazing durability and lasting power. Here are some services part of our portfolio and dedicated to improving your floor visually as well as its condition:
Wood floor sanding of solid wood, engineered wood, and parquet floors
A wide spectrum of wood floor repairs and refurbishment, including spot repairs and replacement of damaged floorboards, water damage repairs, restoration of warped and cupped wooden floorboards, etc.
Gap filling and improving the insulation of the floor, sound-proofing
Wood floor staining along with an impressively wide range of high-quality wood floor stains and dyes supplied by some of the leading manufacturers internationally
Refinishing with premium quality wood floor finishes that ensure long-lasting and hard-wearing protection
Supply of new and reclaimed wooden floorboards for recovering damages of existing floors
Supply and installation of a wide range of wood floor accessories
When you hire our expert wood floor sanding and restoration team in Croydon you get more than just professional service. We are passionate about real wood floors and we strive to make sure you can enjoy yours in its best condition and appearance. Therefore, we will be glad to provide you with professional advice and recommendations on some of the best products you can select when refinishing, staining, and cleaning your favourite wooden floor.
Wood Floor Finishes we use for Achieving Flawless Results
Choosing the right finish is a very important decision you should make. In order to decrease the stress for you, we are happy to recommend you what type of finish will best match your floor, your requirements, the specifics of your household or the commercial setting you work at. Here are some of the finish products we use often because of their amazing quality and lasting power:
Bona Mega – The perfect choice for lacquered floors, available in matte, satin, gloss, and high gloss options, as well as in natural and unfinished look.
Bona Traffic HD – Quick-drying lacquer that provides commercial-grade, extra durable protection for your wooden floor and protects it from high traffic and heavy footfall. Available in matte and satin.
Bona Classic Primer – The perfect choice for light colouration of the wooden floorboards and for producing a high-elasticity, well-bodied surface.
Bona Prime Amberseal – Low VOC and quick-drying primer for achieving amazing intensity and richness of warm-coloured wooden floorboards.
Bona Prime Deep – Low VOC primer for enhancing the natural grain and pattern of the floorboards.
Bona Prime Intense – A water-borne primer for a medium to the intense colouration of unfinished wooden floorboards.
Junckers Strong – High-quality, quick-drying lacquer for domestic use, available in matte, satin, and gloss.
Junckers BasePrime – Quick-drying primer suitable for light-coloured wood floors and adding a light golden hue.
Junckers HP Commercial – Quick-drying, extra-durable lacquer suitable for commercial use, high traffic, and heavy footfall. Available in matte, satin, and gloss.
Junckers PreLak Primer and White Primer – Water-based and quick-drying, with no additional shade or white shade.
Junckers HP Professional 625 – Solvent-based lacquer for domestic and commercial use. Ensures extreme durability and hard-wearing protection. Available in matte, satin, and gloss.
Loba WS Easy Prime – Primer for strong and optimized adhesion between the wooden floorboards and the finish. Reduces side-bonding, fast-drying.
Loba WS Viva One Component Lacquer – Easy to apply, fast-drying, water-based, suitable for hardwood and parquet floors. Available in matte and semi-gloss.
Loba WS Fusion Two-Component Lacquer – Water-borne finish with polyurethane resins. Easy application, excellent wear resistance, designed for hardwood, parquet, and cork flooring.
Feel free to call on 020 70360625 for more information about our wood floor sanding service! Contact us today and get a free and non-obligational site visit plus a quotation. All services offered and delivered by the company are covered by our Floor Service Guarantee and a comprehensive Public and Treatment Risk Insurance.