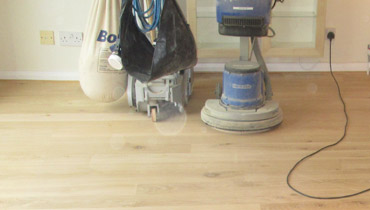 Engineered wood is a popular choice nowadays in Croydon and this is really easy to understand why, since engineered wood is created as a great alternative to hardwood, made to look and feel like a completely real product. In fact, engineered wood has natural heritage, but is manufactured to offer more durability and longevity. Engineered planks are made from several layers of lumber or plywood, glued together and topped with a real wood veneer, offered in all wood species available for hardwood floors.
Since engineered wood brings most of the features of hardwood, you can imagine engineered floors can also be a subject of issues. The same damage causers, affecting hardwood also affect the surface and the whole construction in this case, causing scratches, defects and imperfections, stains, gaps, loose or broken planks and more. So, having an engineered wood floor also requires care and maintenance and hiring sanding experts in Croydon occasionally, in order to keep the good condition.
If you wonder what sanding stays for and what are the benefits of this service for your owning, here is a short review of what our sanding experts perform in Croydon.
Inspecting the floor
In order to help you understand the real benefits of the process and the options you have, our company offers a free site visit in Croydon as a part of our special offers. In a convenient for you day, after previously arranged appointment on 020 88309782, our professionals will visit your property to inspect the existing floor and recommend what is best for your project. We always offer honest and reliable information and won't lie you about the condition of the floor, what can and what cannot be achieved. We always have respect for your ideas.
Sanding and restoration
We have a long and rich experience and a lot of knowledge accumulated in the sanding field, having restored hundreds of floors in Croydon. And even for so many years, we are always excited about how our clients will be impressed by the final result. Our professional grade machines are highly effective and provide a far superior finish than the DIY models you can rent. In addition, this equipment is completely low-dust and we will leave your project super tidy.
You are dedicated to ensure your engineered flooring will be finished according to the highest standards. We will arrive on time and finish on time, delivering the best possible service, using top quality products, achieving and matching your exact needs and expectations on an affordable price.
We will advise you on the best finish for your floor for the upcoming sealing service, which is always recommended. In addition, we will provide you with maintenance information, helping you decide your efficient and timely daily cleaning routine.
If you would like to arrange a free on-site visit and to give a chance to Croydon Floor Sanders to prove you our complete and dust-free sanding service, be sure to contact us via our phone, e-mail or through the contact form of our website.