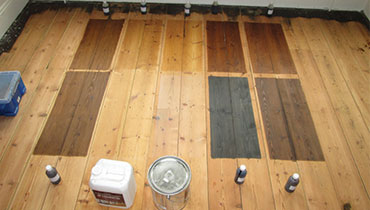 We aim to offer excellent results in floor sanding and aftercare treatment to our customers. We are a company with years of experience in this field. Our mission is to provide high-quality service and customer satisfaction. We enjoy sanding and refinishing old hardwood floors and bringing them back to life with an elegant new look.
Many people do not know that even hardwood flooring that has been covered by carpet for years or that looks to be in a horrible state can usually be refinished instead of being replaced, to look almost new and give a home a more sophisticated and clean finish.
Why Sanding Is Needed
Sanding can be done on floors in really bad condition in need of renovation or to newly installed floors which need to be finished. Some people would rather do it themselves but if this is your first time, you should better call professionals to get the job well done. With us, it's easy, fast and you are going to have the best work done at your home.
Floor Renovation Can Be Easy
The process of refinishing existing flooring starts with evaluating the condition of the floor to see if there are any areas that need to be repaired or any gaps to fill. Then the floor is sanded and buffed to remove the surface layer, finished with stain and leaving a clean surface on which to apply a new coat of stain and finish. The sanding process can remove most spots and scratches and leave floors looking brand new.
Stain It By Your Taste
Staining wood takes skill to do correctly. We, Croydon Floor Sanders, have a team of skilled artists, working hard to create the perfect colour wood for your new design or addition. We pride ourselves on being patient and knowledgeable in this area and we love a challenge!
Commercial Floor Sanding
Renovating large and high traffic areas like offices, pubs, restaurants, schools and etc. is about planning and good organization. We understand the value of the business and the possibility of changing your working schedule for floor restoration activities. At Croydon we have the right equipment and services to make it easier for you. We use high-quality equipment, completely dust-free and environment-friendly. We offer flexible working hours to fit best with your schedule. Also, we can work nights or weekends if that fits you better.
School Flooring Specialists in Croydon
Croydon Floor Sanders are a contractors specialising in school floor restoration. Our floor services for schools cover sanding, sealing and repairs of the school hall and gymnasium floors. We take extra care when sanding and sealing parquet floors to ensure no blocks are damaged. But what makes our school flooring services truly shine is our individual approach to every task because we are trying to bring the best possible results while keeping in mind possibly limited budget and maintenance windows. Call 020 70360625 and try. You won't regret it.
---
Did you know? For more than 500 hundred years the Croydon Palace has sheltered the archbishops of Canterbury. As such, the place will forever hold an important piece of English history within its walls.
Very happy. Very good overall.
Wonderful job done. Quick and efficient. Very pleased.
Wonderful job done. Quick and efficient. Very pleased.