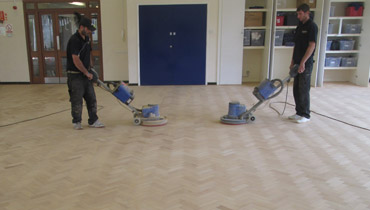 Sanding is a great way of restoring worn and distressed commercial floors in Croydon. Hardwood will last longer in the quite aggressive and frequent use environment of the commercial premises and that is the reason to be preferred most of the time, however, at Croydon Floor Sanders we can deliver superb quality of service and the equal dedication and attention to hardwood, engineered wood and parquetry, so feel free to get in touch with us whenever you feel the floor needs less or more an update.
A common mistake, which leads to the quicker wear and tear of the commercial wooden floors is the wrong cleaning routine. Using too much water, inappropriate cleaning products and neglecting small imperfections can quickly bring you to the stage where the floor is going to need a complex and time-consuming repair service and we are sure no one wants that. In addition, the frequent traffic and high level of everyday use, also other internal and external damage causers and affection make the commercial wooden floors much more vulnerable than the domestic ones. So, the best thing you can consider for the floor is occasionally hiring sanding specialists in order to keep the condition and stability in good shape and to improve it visually and our experts are your best option in Croydon.
Years of Experience in Commercial Floor Sanding and Restoration in Croydon
Among our satisfied commercial clients you can find some popular names in Enfield, which are known for their good reputation of leading businesses with attention to details and professional approach. We have so much experience in working on large-scale projects, including:
Offices and working places
Schools and universities
Museum and other public premises
Gyms and entertainment centers
Restaurant and hotels
Showrooms and retail stores
The main difference between commercial projects and domestic ones in Croydon is, of course, the dimensions of the area, where sanding will happen. Large-scaled projects often renounce you from hiring a restoration service. Because of the wider working area, commercial ones are considered to be more time-consuming and, well, way more expensive. Nothing of these is right if you decide to hire us for the Croydon area. We are experienced and knowledgeable professionals, but that isn't all.
We are pretty well-organised and offer flexibility and respect to your busy schedule. At the same time, because of the expertise accumulated for so many years on the market, we know exactly how to perform prompt and timely even in unexpected situations and we know how to deliver the highest quality even when we have limited time to achieve flawless final results. In addition, you can get all that for an amazing price, which will surprise you and you can get an advantage of our special offer and ask for all the maintenance information you are interested in.
High-Quality Commercial Floor Restoration Service
Of course, every project has its individual and specific requirements and needs. However, we are able to cover a really wide range of different professional services dedicated to improving the condition and appearance of every commercial wood floor, including:
Overall repair of the floor, including water damage repair, replacement, dealing with cupping and ballooning, warped edges of the floorboards, loose and broken boards, etc.
Spot repair of only the damaged floorboards in high-traffic areas. We will find and supply the perfect match of reclaimed or new wood that will guarantee the even and uniform look of the entire floor.
Gap filling for bringing back the stability and durability of the wooden floor, minimizing the risk of major issues and problems, improving the insulation properties of the floor.
Wood floor sanding for removing the top layer of the floor that gives it this damaged, sad, dull, and aged look. Wood floor sanding is designed to get rid of the old finish and all imperfection and issues on the surface of the floor and leaving the surface extra smooth, even, and beautiful.
Wood floor refinishing that ensures amazing and lasting protection and adds a lot of elegance and character to the wooden floor.
Wood floor staining for enhancing the natural colour of the wood species or completely transforming it into something new and exciting.
Wood floor recoating for wooden floors that have been previously finished with oil finish. Perfect for quick touch-ups without the need of time-consuming, stressful and messy sanding service.
We Use Only Best Quality Products
We don't compromise with the quality and efficiency of the equipment and products we use for every commercial wood floor restoration and sanding service in Croydon. We supply the products we use from all internationally renowned leaders and brands on the market and we are sure that the products we choose to use contribute so much to the flawless results we are striving to achieve. The brands we enjoy working with include:
Bona – Bona is probably the most classic and iconic name in the wood flooring industry when it comes to high-quality products and tools. Some of the products by Bona we love to use are Bona Mega Varnish, Bona Traffic HD, Bona Classic Primer, Bona Primer Amberseal, Bona Prime Deep, Bona Prime Intense, Bona Mega and Traffic Natural.
Junckers – Junckers is yet another reputable and widely known name in the wood flooring industry. Junckers products are not only very high-quality but also very innovative. The products we use for our projects include Junckers Strong Varnish, Junckers BasePrime Primer, Junckers PreLak Primer, Junckers PreLak White Primer, Junckers HP Commercial.
Loba – Loba creates products that are suitable for all types of wood flooring and wood species and ensure easy application and flawless results. Some of the products by Loba we enjoy using include Loba WS Easy Prime, Loba WS Viva One-Component Lacquer, Loba WS Fusion Two-Component Lacquer.
Hands down, commercial floor restoration can completely transform even pathetic looking floors. It will achieve not only a visual improvement but also will add more to the stability, longevity and durability and works, also, as good prevention against possible feature unexpected issues. For flawless results, you can completely trust us, because we come to you with our good reputation and wide loyal clientele network in Croydon. Get in touch and be sure to ask all your questions!