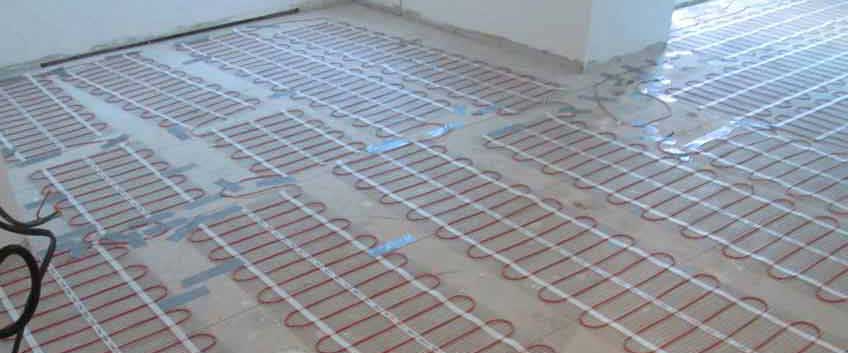 Each and every professional would tell you that the best choice for over underfloor heating is wood flooring. Of course, it is, however, being the best choice doesn't necessarily mean that there are no issues and problems eventually expected at all. In fact, there are a few situations you probably wouldn't enjoy experiencing when it comes to wood flooring and underfloor heating, but you can successfully avoid and prevent them, let's find out how!
Wood flooring has its own thermal properties and makes it the perfect option for this kind of heating installation. However, one thing you have to be aware of is the fact that the UFH system should always be left on a low temperature, since higher temperatures, high amplitudes and regular temperature changes can lead to some issues with the wooden planks.
Remember, wood is a living material, even cut into planks and boards and being a living material, wood will react to the environment. If you are kind to your floor, it will be kind to you too. When you are turning off your UFH system, then the boards start getting cold and when there is a level of interior humidity that is higher than the recommended, wooden planks will start to pick up moisture. Then when you turn on the underfloor heating, the local environment of the wood will change dramatically and this will cause a lot of stress to the boards and to the whole construction, leading to many common problems.
Most of the problems that your wooden planks could experience and that are related to UFH some of these conditions:
Significant changes in the surface temperature
Hot spots
Lack of heat distribution
High humidity
Operating the heating above a surface temperature of 27 degrees
Cleaning the floor with water
Try to avoid all of the above mentioned and we can guarantee that the risks for your floor will be reduced significantly as well as you will be able to experience more efficient and cost-effective UFH system. Here is how to ensure that common problems and issues are successfully avoided and prevented:
Hire a professional UFH installer
Ensure you have the right system for your needs
Do not buy cheap engineered wood
Do not have UFH system under solid wood timber
Use the highest quality adhesives
Hot spots occur when there is no efficient reflector plate to spread the heat
Do not increase and decrease the temperature excessively
Here is how your wooden floor can react to not suitable conditions, UFH systems and inappropriate maintenance:
Warped boards
Engineered wood planks can delaminate (the lamella or the top layer can come off)
You may find the whole floor lifting, if it is not fitted properly
There will be a lack of efficient heat transference and that can lead to heat-loss and significantly increased heating bills
It is really not that hard to maintain your UFH system and your engineered wood planks in good condition for a long time. Simply make sure to avoid the above mentioned.