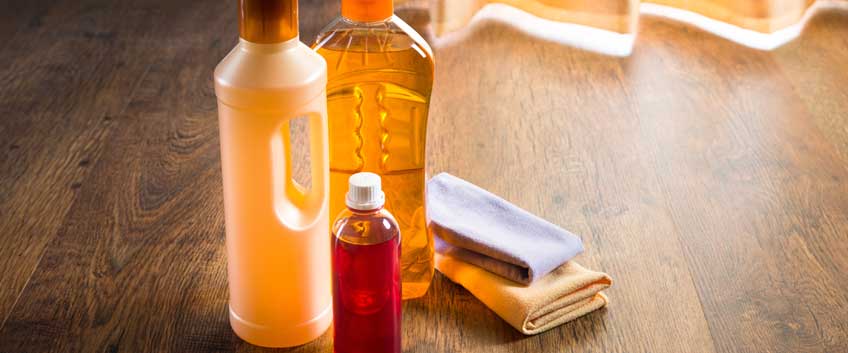 Every wood floor owner knows best that wood floors require a special cleaning routine. Special cleaning routine doesn't mean that you have to spend hours and tons of money in order to keep your floor dust- and stainless. According to the manufacturer's recommendations, sweeping with a soft brush daily, or using the vacuum cleaner to remove dust and debris is pretty much enough for keeping your floor look great and keep its condition in tip-top shape. However, according to our personal experience, we know that sometimes accidents happen and you have to be prepared for heavy-duty cleaning exclusive! No, we are not talking about special and expensive heavy-duty equipment and tools, but for the good old mop and the cleaning detergents that are appropriated to be used for wooden floors.
With wooden floors you know the deal. Spills, especially food and beverage spills have to be removed as soon as possible, otherwise, there is a risk for a stubborn smell and stain to appear on your beautiful floor and ruin its whole appearance. Well, we know we have to remove stains immediately, but what to remove them with?
The first and most important rule is not using a wet mop unless you don't want a ballooning floor with the appearance of a spotted hyena! Water is the wood floor's mortal enemy and you have to make sure your floor is not in direct contact with water, or otherwise said, that the mop you clean the floor with is only damp. Otherwise, moisture will penetrate through the surface and can cause major issues like ballooning and cupping that may lead to loose and cracked planks at some point. In addition, water is also bad for the wood floor's finish, because it may make it look dull and dark spots may appear.
As it comes to the cleaning detergents required, forget about ammonia, anything abrasive, or anything with too high and too low pH. Most important of all, forget about what you have heard about vinegar. Although vinegar is pretty good at removing stubborn stains and even paint splashes, it is acid and being an acid it will ruin the finish. Different wood floor finishes often require different cleaning products, however, the main thing you have to look for is using a neutral pH cleaner.
Never use multi-purpose cleaners or soaps from the supermarket, better invest in a product that is made exactly for wooden floors and wax, lacquer, or oil finishes. There are many on the market and they won't break the bank for sure, but they will work gently, preventing issues, preserving the beauty of your floor and the finish and also removing all the dirt, debris, allergens and bacteria accumulated for a healthy indoor environment. Remember, always use the cleaning product according to the instructions and don't try to live risky and extreme experimenting. After all, it is your floor, your investment and you want it to look and feel great for as long as possible. Following a precise and appropriate cleaning routine is one of the keys to ensuring long-lasting power.