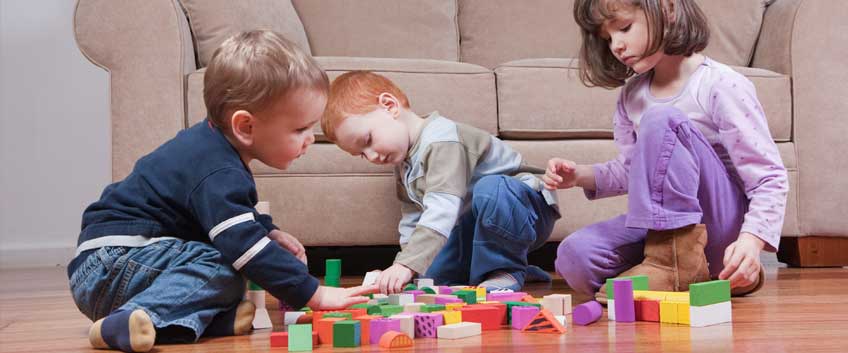 Choosing the right wood flooring for your home is already not a light decision and by adding to this the fact that you have young children as a member of your family, your decision gets even harder. Simply imagine the enthusiastic pairs of feet that are going to crawl or run the house the whole day, all the happy games and activities and all the long days and nights spent at home and we are sure that you are already envisioning the consequences of your wooden floor is probably going to struggle with. Well, there is no place for panic, because the wood flooring professionals are here to help with advice and recommendations!
In the case of families with young children, the choice of wood flooring has to be determined not that much by the type of wood, but more by the type of finish. Choosing the right, hard-wearing and long-lasting finish can help significantly by making the bare wood species underneath resistant to damage, shock and moisture as well as keeping the appearance of the floor fairly in good condition by not showing scratches and wear and tear that dramatically. Be smart with your wood floor finish choice and you won't be disappointed.
In addition, when choosing a wood floor finish, you have to think about products that are completely safe, hygienic and healthy. Children and children are not predictable and the younger out of them spend the majority of their time right on the floor, crawling, playing and having fun. So you definitely do not want something toxic and dangerous in such direct contact with your kids, right?
By far you have two main options, when it comes to choosing the right finish for your floor (and for your children too!), let's have a deeper look and find out more about them:
Super-durable polyurethane varnish
Polyurethane varnishes are known for being the most durable, hard-wearing and shock-resistant finishes out there, offered on the market. That means that a polyurethane varnish is a very smart choice that will protect the wood from boisterous activities and pretty much everything your children can come up with and can throw at them. Heavy footfall and high traffic, spills, scratches, wear and tear and marks and stains from all types, are the main struggles for a wooden floor that is installed in a domestic setting, where there are children, but a polyurethane varnish is what going to offer and provide wood with long-lasting protection. However, some polyurethane finishes can be pretty toxic, especially when drying, because of that you have to choose more family-friendly products.
Distressed look
Since your newly finished wooden floor is going to look distressed very soon, why not play it smart and have it distressed right at the start! Let us add that the distressed look for wooden flooring is currently very popular and trendy and the hard-scraping process is achieving that charming and rustic look that everyone is a fan of… and your children will achieve otherwise! Combine the distressed look with natural oil or wax finish and you are good to go!