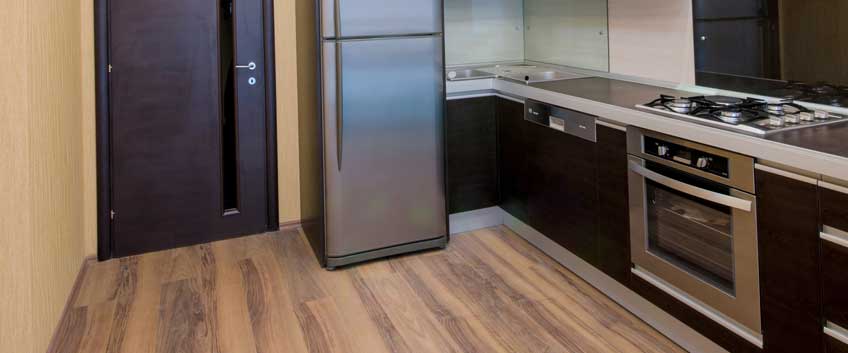 For so many years there is one question floating around the wood flooring branch that still doesn't have its answer by now. Maybe because different people have different needs and requirements, or maybe not, but the discussion about whether to install wooden flooring under appliances and countertops or not will be current forever, as it looks! So, what do you think – does wood flooring has to be installed underneath appliances and countertops too? After all, no one is going to see it, right? Let's have a look at what the professionals and specialists think on this question!
Arguments for complete flooring
Why many people would prefer complete wood flooring installed into unseen spaces and into each corner and nook of the property? Mainly, because you never know! You never know a few years from here if your property is going to look the same. You never know if you are not going to buy a new fridge or oven, or decide on different interior design, or change something around. You just never know! And in case something from the above mentioned happens, then you will end up with a floor that looks like a puzzle with missing parts. Definitely not pretty, right?
Let's say that you skip installing a few planks beneath the countertops or the fridge in your kitchen. Then in a few years, you decide that you want to remodel the whole kitchen. The blank spaces will not only make you remodel the flooring too but buy an entirely new floor for an even look. Your choices will always be directed by whether there is a flooring underneath or not and this is definitely not that convenient!
Once you decide on wall-to-wall installation, then you will never worry about what is going to happen when you move things around and expose blank spaces. You have a smooth canvas to work with and you can do whatever you want in terms of remodelling. You can choose whatever style and design you want!
Arguments against flooring underneath
The above mentioned makes perfect sense. However, fitting flooring all the way and underneath stoves, dishwashers, bathroom vanities and kitchen cabinets are a total waste of money? Why would you need it, when no one is ever going to see it?!
You can save a lot of extra cash from all the square meters you are not going to pay for materials and installation for as well as for sanding and refinishing in future! You can simply go with the cheapest subflooring underneath the heavy and big appliances and countertops that are definitely not going to be moved around. After all, they are not tables and chairs and they are not mobile at all! In addition, if you skip installing flooring in these spots then you can install the heavy appliances and cabinetry first and avoid possible scratches and other issues during the moving process. So, you don't risk dragging a heavy stove over the newly installed and expensive hardwoods!
Yes, both sides have their arguments and we don't blame you if you feel confused. Because of that, be sure to discuss all the details with a professional installer before undertaking a wooden floor installation project!