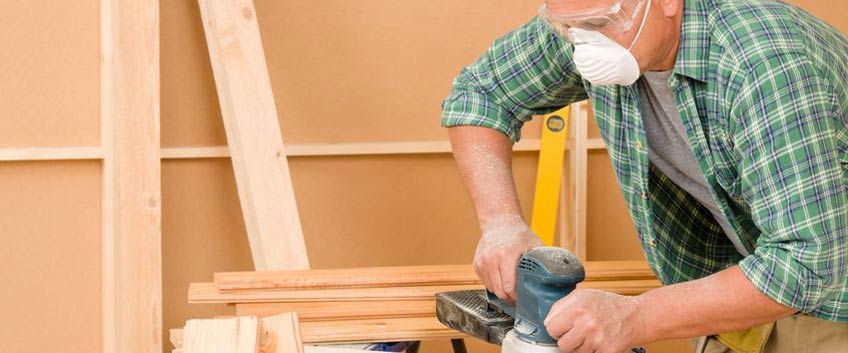 It is not a secret floor sanding is not an easy task and requires extra caution. Most of the floor sanding experts will ensure you they practice their projects according to the highest standards, including safety and you can't neglect the fact, in fact, they do take some prior cautions in order to assure a safe and secure working environment. However, there is a part of the floor sanding projects, initiates by handy DIY-ers.
It is undisputed the fact some amateurs have a real talent at floor sanding and can achieve results most of the trained and experienced professionals are surprised with, but the sanding process is not only treating the wood floor with the proper equipment. Some prevention and preparation are required in terms of the smoothly going job and preventing numerous problems, including failure to comply with safety rules. Here are a few professional advice you have to keep in mind in case you are planning a DIY sanding project without the helping hand of the experts. Remember that your and others health and security are the most important component of the whole idea, so please try to prevent issues.
Always read all the manufacturer's instructions of the sanding equipment you will work with. Knowing how to deal right with the machines will not only help you achieve better results at sanding and create a smooth and sleek wood floor but also guarantee your safety. If in doubt or you need extra help on how to properly handle the sanding equipment, be sure to ask experienced and trained flooring technicians and always follow their advice.
Be sure to use a dust mask, goggles and ear protectors. Wood floor sanding is always a messy and loud job and even using a low-dust sanding machine, you will suffer a lot of dust and dirt. To prevent damaging your eyes and ears or breathing in a major amount of industrial dust, be sure you start the DIY sanding project with the proper equipment.
The proper ventilation of the room is essential. Once again, sanding is messy and creates dust like it's nobody business, so be sure you have all the windows and doors open. To prevent dust translocation from one room to another use dust sheets, but always ensure the best ventilation possible. However, some rooms like basements, for example, don't have a high aeration potential. In that case, better ask your local Croydon industrial materials store for hiring a professional ventilation system. This will add an extra charge to the whole project, but it is really important. In addition, the ventilation system will help the finishing products to dry quicker.
Finally, think of the safety during sealing, staining and refinishing. Keep in mind most of the finishing products are powerful chemicals. Be sure you read all the instructions before starting with sealing and staining and you have good ventilation in the room. Set an environment, which won't provoke inflammation.
After all, taking care of your health is in the first place, so better hire a professional service to do the job for you. Croydon Floor Sanders is one of your options in Croydon.