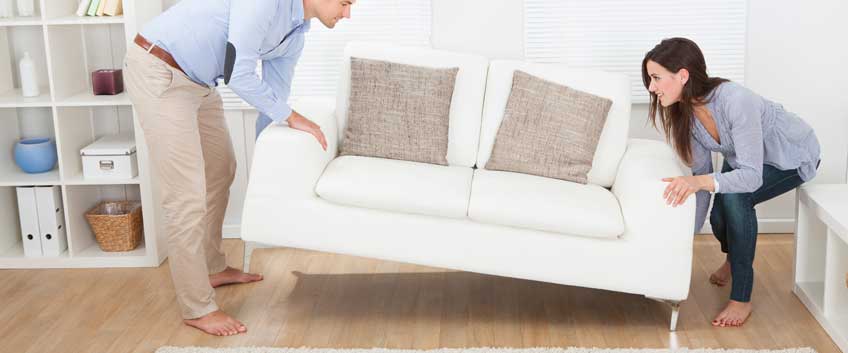 Are you moving to a new home? Or you are in the middle of a home improvement and renovation project? Maybe you are re-arranging the furniture pieces around the house and you are inspired for a new interior? Great, but first things first – you have to take care of your wooden floor in order to make sure that re-arranging and moving out won't leave its traces and ruin the look of your beautiful floor!
During a move many people are focused on the mobile aspect of the job (well, thank you, Captain Obvious, maybe this is the reason to call it a move) like furniture pieces and other heavy objects. However, the wooden floor and its prevention leave a bit out of the main focus and neglected until the time comes that we have to deal with serious scratches, dents and other issues. A hardwood floor is an important and pretty serious investment and the last thing we would like to see is it being scratched and its look completely ruined, right? Because of that today we offer to your attention 3 really helpful and useful tips for preventing your wooden floor from scratches and issues you have to remember next time you are in process of moving.
Cover
Before even imagine moving furniture in and out of your home, be sure your wooden floors are covered well in order to avoid eventual issues and problems. There are many different types of products that can be used for the purpose of covering. Absorbing protective mat is a good choice that will come with enough protection, plus you can cut it in any space and match it to the dimensions of your room or space. You can also use runners that cling to the surface with non-adhesive and slip-resistant backing.
Don't drag it!
Don't drag furniture and heavy objects on your floor, because you are almost surely going to leave serious and deep scratches and dents. No matter if you use a special cover to protect the surface, still, dragging is not a smart idea at all. Otherwise, you will end up being in serious need of sanding and refinishing services. If you cannot carry it when moving furniture and other heavy objects be sure to use sliders. When it comes to lighter furniture pieces like chairs, for example, don't drag them on a daily basis too. Be sure to place a specially designed padding on their feet to prevent scratches.
Be cautious in bad weather
Well, there is no perfect time for moving out and moving in, but rainy days and muddy streets are definitely not helping out. Of course, in an ideal world people are going to walk on your wooden floor with their shoes off, but let's be real – this is not going to happen. However, dirt, mud and especially excess water and moisture are really bad for hardwood floors and because of that taking extra precaution is important. Place a large mat at the front door.