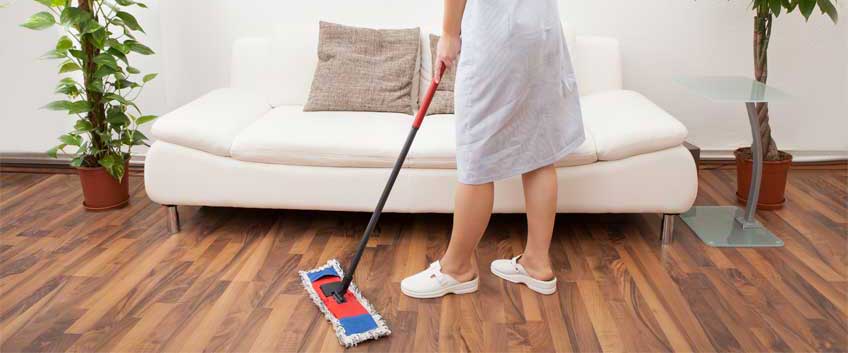 Investing in new quality wood flooring is a great decision. Besides the popular reason why to consider exactly wood for your flooring, besides its natural and elegant beauty, lumber's functionality, durability, solidness and the extensive choice you have on the Croydon market, a big selling point is the fact wooden floors are really easy to maintenance and don't require too much energy, money or time.
However, some basic cleaning and maintenance routine is always recommended in order to keep your floor in perfect condition as long as possible. You can't neglect the fact that the more you care about your flooring, the more it pays off with loyal service and perfect appearance. In fact, your cleaning routine doesn't have to be anything but quick and easy and that is more than enough. Following experts' recommendations is the best strategy, you can undertake for cleaning your wood floor. So here are a few pieces of advice from our experienced flooring professionals in Croydon.
First of all, keep in mind prevention and protection are the most important thing you have to start with. Prevention is always preferred to cure, so following a few simple tips will save your nerves. Although most of the wood flooring issues can be solved, you don't want to invest extra money in the near future, right?
The first preventive technique is placing strategic a few doormats. Well, we know no one would like to cover the beauty of the wooden flooring, however, you have to put rugs and mats on a few key places and that will be enough. Make sure you have at least one under a heavier furniture piece and also in areas of frequent traffic. The most important part is to have a doormat – a scrubbing one outside and absorbing one inside. Make sure people use them every time, so no dirt particles and dust will enter your house and cause scratches and wear and tear. Another option is also to monitor the "no-shoes-inside" policy, try to get used to it!
Keep your cleaning routine simple, as recommended by the experts. The good everyday cleaning of wooden floors requires sweeping with a broom with soft bristles and occasionally deeper clean for inaccessible areas with a vacuum cleaner. Using a broom with soft bristles and the setting of the vacuum machine, created for hardwood floors is easy, quick and won't scratch the surface. Mopping is also recommended, just make sure your mop is damp and brush the surface lightly. The only situation when wood flooring requires extra attention is when liquids are spelt over. Remove liquids and beverage and food spills immediately, so they don't stain the wood.
Finally, invest in high-quality cleaning products. Using low-quality products for furniture, all-purposes, abrasive ones or bleach is a big no-no! Make sure to use only cleaners made for hardwood flooring and follow the manufacturer's instructions for perfect final results.