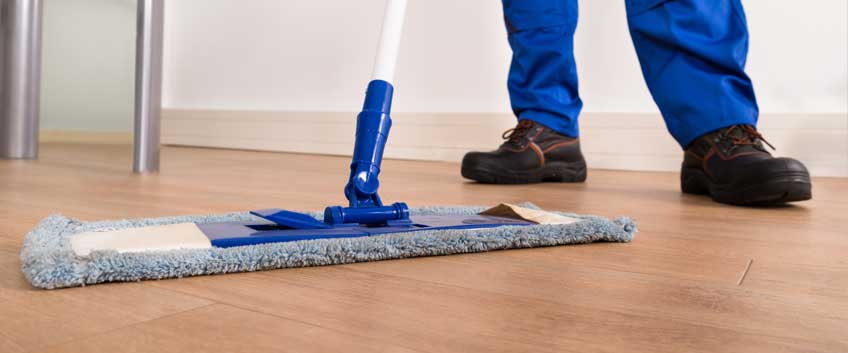 When choosing to buy flooring, each and every out of us is looking for different features, depending on our personal preferences, requirements, lifestyle and so on. Some of us go for a beautiful look, some of us go for durability and long-lasting power, some of us are looking for an easy to maintain and cleaning option. For the last group of people mentioned, we have to say that wooden flooring has always been popular as an easy to maintain and clean type of flooring. In fact, owning wooden flooring doesn't require some specific skills, neither a time-consuming and complex cleaning routine.
Wooden floors are not the ones to accumulate dirt and dust the most and although accidents happen anywhere and anytime, you can easily handle the smaller issues. Today, we are going to talk about the difference between cleaning hardwood and laminate floors. Both types are a pretty good choice if you don't want to spend hours on cleaning and a big amount of money on additional professional services to maintain a flawless look and good condition. However, hardwood floors often require a specific approach, not complex or hard, but specific. Let's have a further look.
In order to help you make an easier decision and to be aware of all the pros and cons of every type of flooring, we also want to help you learn more about what it takes to keep your hardwood or laminate floor in good condition and look. Part of maintaining a good condition is the cleaning routine, which on a long-term basis plays a big role. Let's have a look at the basic things you need to know about cleaning hardwood and laminate flooring.
Laminate:
Sweep your laminate flooring every day, because that way you are going to prevent dirt and debris build-ups. Dust and debris usually work abrasive and could leave fine scratches on the surface. In addition, dust and dirt build-ups are the main reason for an unhealthy indoor environment and they have to be removed frequently, otherwise, your home is going to suffer bacteria and allergens. Sweep with a broom with fine bristles to prevent fine scratches, as well.
Unlike natural wood floors, laminate flooring could be washed with water. However, it is recommended to still reduce the amount of excess water as much as possible. Try not to use a soaking wet mop and go for a damp mop. That way you are going to keep your floor in good condition for longer.
Use clean warm water. However, if you still find it difficult to remove stubborn stains and spills, use only products that are exclusively designed for laminate floors.
As you can see, cleaning laminate floors is not that hard at all and doing it right guarantees better results. It is all about attention to details and caution, however, hardwood floors require a bit more than that.
Hardwood:
Once again, sweep with a fine bristled broom as frequent as possible. Once a day is an optimal option, so be sure to do it that frequently. Alternatively, you can vacuum the floor, but don't forget to vacuum with a nozzle for hard floors that won't leave scratches.
Water and real wood floors are definitely not the best friends. Try and wash the floor is as damp mop as possible, always remove excess water and other kinds of spills and liquids immediately. Otherwise, the liquids penetrate through the finishing layer and damage the bare wood underneath, or leave hard to remove stains.
Use only products that are exclusively designed for hardwood floors. Forget about the multi-purpose products from your local supermarket.