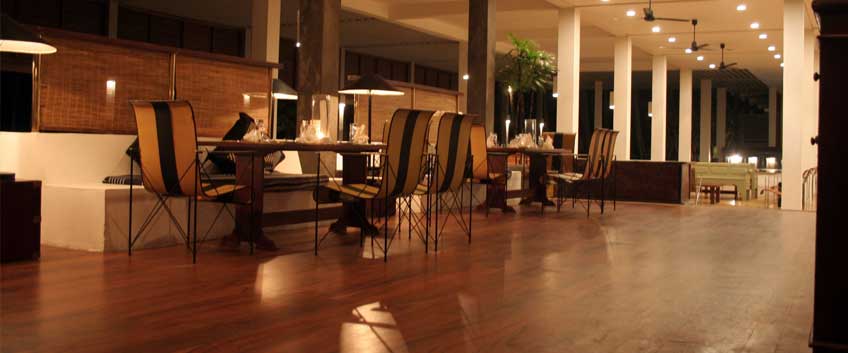 The ugly (or actually not ugly at all, it is beautiful) truth is that the best restaurants in the world, all those upscale restaurants we all enjoy visiting, have ditched carpets, tablecloths and curtains for already years. Let's be real, carpets and vinyl floors don't look professional and stylish at all! They don't have the class and the wow-factor, they don't make a bold statement and don't have an appearance and character… they lack something.
They lack something that a sort of flooring actually has! Wood flooring – it has it all, the style, the class, the appearance. And if you own a restaurant business and you want to be in the game, then you don't have any excuse for not having a wooden floor installed. Even if you are on a tighter budget – still no excuse! Wooden floors don't need to be justified, they are everything your restaurant business will ever need… well, good cuisine and tasty food are important too! But not without a beautiful wooden floor for your clients and guests to enjoy!
Although the success of your restaurant doesn't necessarily depend on the look and appearance, these definitely play a vital role! The good appearance means professionalism, the good atmosphere wakes up the appetite and interest too! In fact, hardwood flooring comes in many shapes and sizes for you to choose from, but it is always a stylish, elegant and smart choice.
The elements of the excellent restaurant hardwood floor are:
Resistance to heavy footfall and high traffic.
Matte finish to help prevent slips and falls in this sometimes hectic environment (plus, matte finishes are really forgiving, when it comes to stains and scratches).
Easy to maintain.
Now, let's go even deeper, let's talk engineered wood flooring over solid wood! Why we recommended engineered wood? Let's have a look!
Durability
Unlike solid wood, engineered wood is a man-made product and this means that there is more than Mother Nature into the mix, but a concept and idea involved. And engineered wood flooring really has an idea – the idea for durability, hard-wearing and long-lasting power. Engineered wood is made out of layers of hardwood and softwood and their specific crisscrossed arrangement is a discovery that makes them less prone to popular issues solid wood floors suffer from. Engineered wood is actually resistant to moisture, temperature changes and a number of other issues… smart, huh?!
Maintenance
If there is something easier than cleaning and maintaining engineered wood floors in good condition, we would like to hear what it is now! As we have already mentioned above – with engineered wood there are significantly fewer imperfections and issues to worry about. Add a hard-wearing finish to the mix and you have it all, or actually, you have nothing at all – no scratches, no dirt, no chipped finish! Did you know you can refinish engineered wood too?
Selection Variety
In case you are a solid wood flooring fan that defends solid wood over engineered wood to this last point, then this was your last chance to win crashed because engineered wood floors are exactly as diverse as solid wood floors… because the engineered wood construction is topped with a layer of hardwood and the wood species can be exactly the same used for manufacturing solid wood surfaces!