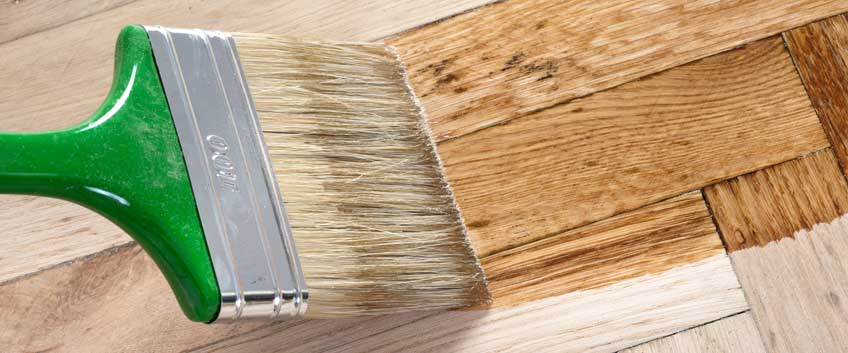 A wooden floor without a finish is not a wooden floor! Well, not exactly, however, the finish is a very important part of the whole appearance and the ability of hardwoods to be resistant to moisture, humidity, scratches and a number of other reasons. So, no matter if prefinished in the factory, or unfinished and then sealed, later on, your wooden floor will need that extra protection and preservation of its colour, grain and texture to serve you for the longest time and remain amazing-looking and extra sturdy for as long as possible.
It is good that you understand the importance of a finish, but how about what finish is the most appropriate and highly recommended for your hardwood floor? Now, this is a question that needs more than just one article to be answered and we recommend you to get in touch with the wood flooring maintenance specialists and make sure to discuss any detail of your project. Meanwhile, we are going to try and share with you the main specifics of each type of finish. Let's get started!
In a nutshell, there are two main groups of finishes that are recommended for residential floors – surface and penetrating.
Surface sealants
Their name speaks a lot because these finishes do exactly what their name suggest – they are applied on the surface and they stay there as a thin barrier between the surface of your beautiful wooden floor and all issues and imperfections waiting for the right moment to ruin its look. These sealants are coating the top of the surface by creating a thin, but very strong and durable layer of protection. There are a few main types of surface sealants:
Shellac – One of the oldest and most time-proven finishes in the industry. It provides your floor with a beautiful and natural glossy undertone. However, it is not as durable as some of the other sealants offered out there on the market, but it still gets the job done and doesn't look cheap. However, be sure not to choose it for high traffic areas and rooms.
Varnish – Another classic right here! It is not that popular in the last few years since there are better alternatives on the market, but it is still a smart choice when combined with different tints. It comes at a pretty decent price. A drawback is a fact it dries slow, allowing dust to complicate the process.
Lacquer – Water-based lacquers are easy to apply but more expensive than varnish and shellac. The finish is glossy and very durable.
Urethane – One of the most popular finishes in today's market. Urethane offers great glossiness and durability. You can also choose between oil-based, water-based and acid-based urethanes. Oil-based are inexpensive and easy to apply, water-based are environmentally friendly and do not turn yellow over time and acid-based dry very fast and do not change colour over time.
Penetrating sealants
Penetrating sealants do what their name suggests – they penetrate the hardwood and fill the pores, while with this add extra protection. These sealants look very natural and help bring out the best of wood's texture and natural beauty. They won't give a fancy gloss. There are three types of oils to consider:
Tung Oil – A classic that is used for many years already and highly preferred because of its natural and "green" character and easy to apply nature. However, tung oil is not the most durable choice and requires many applications as well as more regular refinishing.
Linseed Oil – This finish is made out of flax plants and similar to tung oil, it is a very eco-friendly choice. This oil is not that water-resistant, but it allows easier repair of most of the scratches. It is more forgiving.
Danish Oil – This finish is often a mixture of tung oil and varnish. It dries quickly and it is more durable than the other oils because of the varnish added, but more expensive.