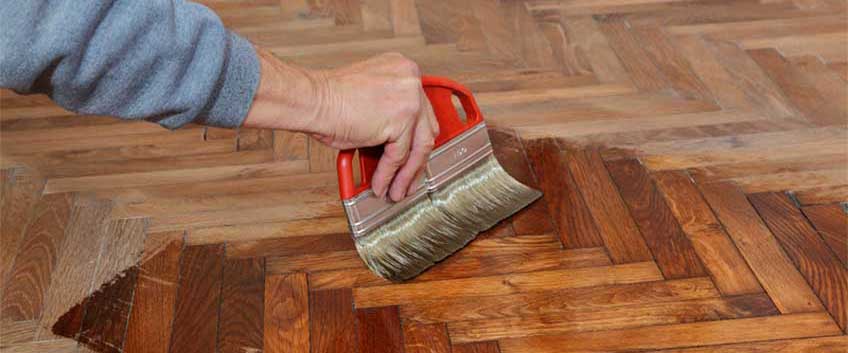 Hard wax oil finish gains more and more popularity on the wood flooring market and we can understand why. A combination of wax and oil, both being popular choices nowadays, offers the perfect balance between functionality and beauty. Wax finish is known for years for its long-lasting effect and the great protection it ensures when applied, while oil wood floor finish is an innovative product mainly dedicated to boost the natural beauty of wood and penetrate through the structure of the floor, adding durability and solidness. These both mixed offer the best balance of everything a wood flooring finishing product can bring as benefits and advantages.
Firstly, let's talk about wood floor finishes and try to understand them better. For the longest time, the wood floor finishes were categorised in three main categories – varnish, oil and wax. However, with the dynamic improvement and development in the branch, it is almost impossible to use these already old and inappropriate categories. In fact, more and more manufacturers offer new and innovative combinations of the old finishing products, searching for the ultimate best one and we believe that hard wax oil is pretty close to perfection. You can also hear some manufacturers and specialists make a division between those finishes leaving a film (varnishes) and those that don't (normally wax and oils). However, with the existence of semi-matt, matt and ultra-matt varnishes, we believe there are already no borders for the way your floor can look!
The principle of hard wax oil application is pretty simple, however very smart. Unlike varnishes, which when applied create a protective barrier on the surface of the floor, but taking a lot from the natural texture and pattern of wood, hard wax oil is great for both protection and visual enjoyment. Filling the pores of the wood with hard wax oil offers amazing and very long-lasting protection and durability, where water and dirt cannot penetrate and damage the floor. Because of the fact hard wax oil doesn't leave a film on the surface, you can enjoy the natural beauty and texture of the floor, also, without worrying about its solidness. Making sure you follow the maintenance expert advice and applying hard wax oil annually is your guarantee for a flawless floor for decades and also a warm and cosy sheen, developed with the years.
Benefits of hard wax oil resumed are:
Easy to apply and maintain
Exceptional protection guaranteed
Easy to clean
Natural look
It doesn't requires too much attention, annually recoating should be enough
Adding durability to the whole structure
Suitable for all wood species and types of real wood flooring
Gets stronger with years
We definitely recommend hard wax oil protective finishes, if you are on the market looking for something both very effective and boosting the natural beauty of wood.